Take Stock in Our Youth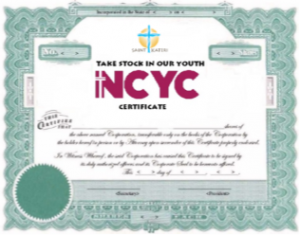 Four pilgrims and their chaperones will travel to Indianapolis this November for a life experience to learn more about their faith as well as grow in their own faith journey. To help support our pilgrims, we are asking you to consider investing in their journey in two ways:
Take Stock in our Youth: Please consider buying "shares" to help defray the cost of the conference.
Partners in Prayer: Please pray for our pilgrims and their chaperones as they prepare for and journey to Indianapolis in November.
Can you help support our youth with your prayers and financial donations?
We will be at upcoming Masses – St Cecilia April 29 5pm, April 30 9am.
Or you can return a check. Checks payable to Saint Kateri Parish.  Mail to Faith Formation Office, 445 Kings Hwy S, 14617 
Stock Certificate to fill out and return
Info:  Colleen Trevisani  585-544-8880 x3410 / ctrevisani@dor.org