Join us for opportunities to engage in learning about the Catholic faith; deepen relationship with God and grow in Christian friendship.  Looking for Events for Young Adults 18-40?
Alpha                    After Alpha                    Lectures & Series                    Small Groups
Alpha
Alpha is about meeting people where they are, engaging them in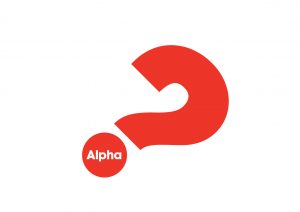 conversations about life's important questions, introducing them to the person of Jesus, and ultimately helping them build a relationship with Jesus, one another and the Catholic Church.
Alpha is a basic introduction to our faith, with shared meal, video and discussion.  It is a no pressure, open discussion about the important questions of life.  Our next session of Alpha begins soon! Join us.  Dinner is provided and child care is available.
After Alpha
Lecture Series
Fr Paul English, CBS – A Walk Through the Mass – Thursdays 9/28, 10/5, 10/12, 10/19 from 7-8:30pm, St Margaret Mary
Dr. Joe Kelly – Reformation – Thursdays 10/26, 11/2, 11/9, 11/16 from 7-8:30pm
Dr. Joe Kelly – Gospel of Mark – Thursdays 2/22, 3/1, 3/8, 3/15 from 7-8:30pm
Want a refresher on the basics of the faith in friendly supportive small group setting?  We will be offering a series with the same format as Alpha – meal, topic and discussion (and child care) called "Catholicism 101."  See Bulletin for current topic.  Runs at the same time as Alpha – with shared dinner and child care.
C&C is open to anyone who would like to learn more about their Catholic faith and meet new people!  Have some coffee, tea or cocoa, share some baked goods, and join in the fun! Wednesday Morning 9am St Cecilia. See bulletin for current topic.  Usually runs September through May.
Small Groups provide the opportunity to grow in your personal relationship with God and with others.
Young Adult Ministry
Our Young Adult Series is designed for those in their 20's and 30's.  Join us for seasonal activities that provide spiritual growth and foundations in our faith.
Contact the Faith Formation Office for more information on these opportunities at (585) 338-1146.