SKT Education Fund – Grant Applications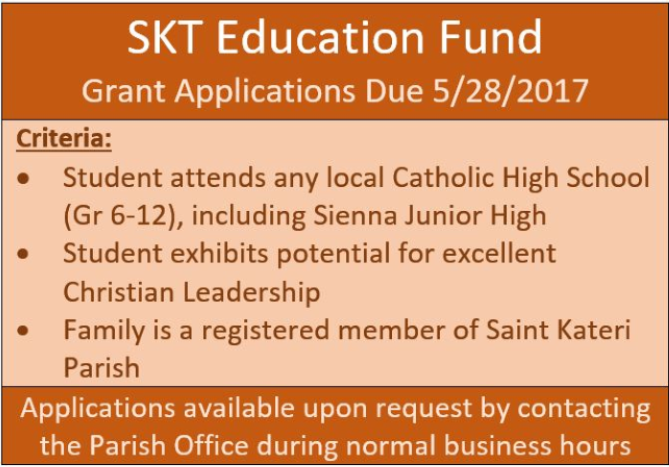 The specific and primary purpose of the SKT EDUCATION FUND is to continue to promote, encourage and advance the welfare of the Parish with a special focus on its parish families. Grants are made, to encourage, foster, promote and advance knowledge, and appreciation of the Catholic faith.
Each year, the SKT EDUCATION FUND provides grants to children of parishioners attending Saint Kateri School (SKS). Funds given to SKS students are need-based and distributed according to the school's Financial Aid process.
Based on the availability of funds, some grants may be made available to those children of parishioners who exhibit the potential for excellent Christian Leadership and attend any of the Diocesan-affiliated Catholic High Schools (i.e., Grades 6-12), including Siena Catholic Academy.
Applications are available at the parish office or by email to iKateri@dor.org. Please always include your contact information (including cell phone) in your note. For the upcoming school year, applications MUST be received by FRI May 28.
Info: John Aloisio 585-544-8880 x2116 / JAloisio@dor.org
Fr. Robert Hale Memorial Scholarship Applications for High School Seniors
$500 college scholarship awarded by the Nightstick Club/Irondequoit Police Department in honor of our beloved deceased pastor, Fr. Robert Hale
Applications at Welcome Information Kiosks & website
Drop off or mail to Saint Kateri Parish, Attn: Marcia Bovenzi, 445 Kings Hwy S, Rochester, NY 14617
Applications due FRI May 19.
Info:  Marcia Bovenzi  585-544-8880