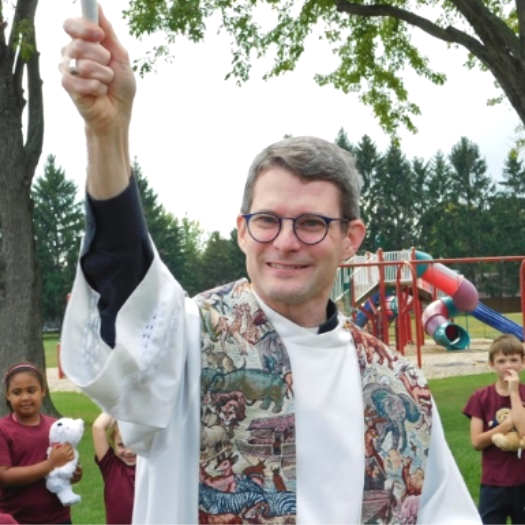 At a recent Staff Farewell Gathering for Fr. Morgan, Marcia Bovenzi, Administrative Assistant and telephone voice of our parish, shared thoughts on the impact of Fr. Morgan's eight years with us.
I have the privilege tonight of presenting Fr. Morgan with a parting gift from us, his staff family. This isn't easy for me: not the talking, not the gifting but, as it is for all of us – the parting.
Reality is upon – the denial approach won't work for much longer and God HAS answered our prayers of extending his stay years past expected. SO modeling the Basilian way of obedience, community and having a good time, we will go forward celebrating you, Fr. Morgan, with a theme of thanking you for walking this journey with us these past eight years.
Your feet may have put on as many miles as your cars. You have travelled countless times to hospitals, nursing home, hospices bringing suffering families and the dying, comfort and sacramental healing. You have made numerous home visits, sharing God's love with your gift of time, friendship and appreciation of another's gift of culinary skills.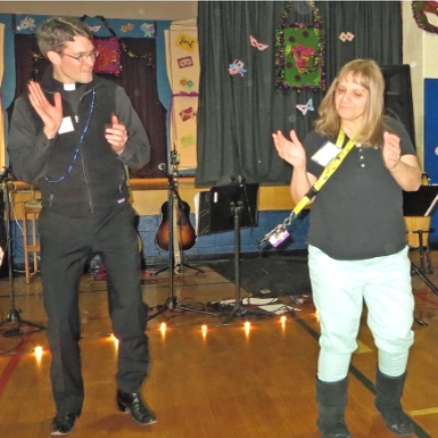 Your journeys with us had you traveling to five churches in the beginning, offices at SC and then SMM and, if presiding at maybe thousands of Eucharistic celebrations at Saint Kateri wasn't enough, you've helped at Bethany House, Bishop Kearney High School and served on various Interfaith Committees – just a sample of the outreach. Your walk has matched yourtalk, teaching us Saint Kateri is not just about us.
This selfless giving has also had you taking routine trips to Wegmans for your regular meal preparations taking care of your Basilian family and sometimes for a special treat for we, your Staff family. Bless you for bringing joy to a birthday celebration with a cake or lifting a down spirit with a blueberry fried cake.
Beside your routine trips, there have been your very special travels – Saint Kateri family vacations – to Rome for Kateri's canonization and Fonda where your feet found favor on bike pedals for 240 miles.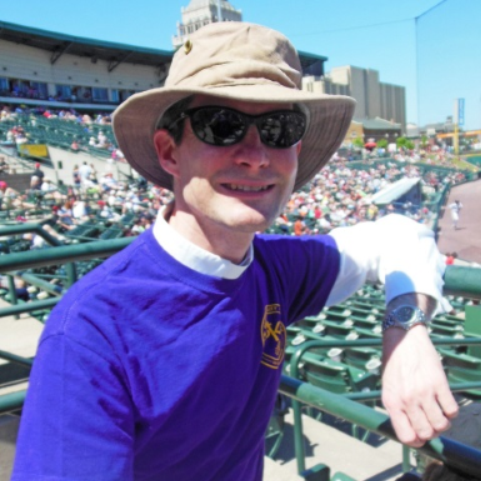 But considering visits at cathedrals abroad or even your important presence at Sacred Heart here in the city, I gather you have found the most happiness in your shortest journeys, your morning walks across the parking lot to Saint Kateri School. You have spent invaluable hours greeting the school children, providing smiles on their faces and in their hearts, doing much the same for you. Unintentional vocation awareness at its best, and Fatherhood at its greatest!!
Greatest too has been your moving feet on the dance floor, teaching steps to the Ladies Guild, gathering line dancers in the Parish Center and serving as a more than formidable partner at wedding receptions again and again.
How many times … well there's been approximately 49 marriages you have witnessed! And not long after, come the baptism requests. Since 2009 you have welcomed around 189 children into the Catholic family we so cherish.  And along with sharing the joyous occasions, you have shown the compassion of Jesus and offered the hope of resurrected life by presiding at 343 funerals.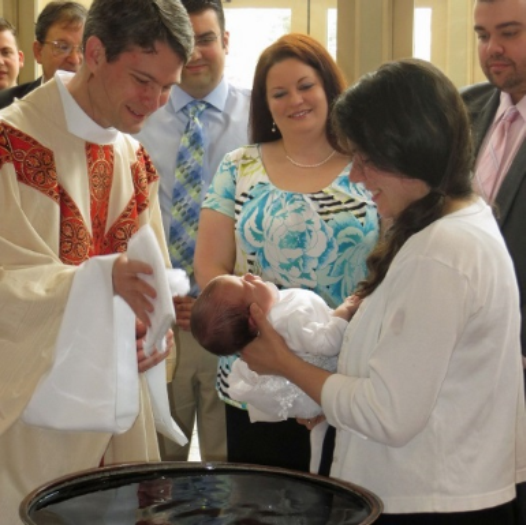 Serving us over and over again, and I won't begin to guess the hours-days-weeks you have spent listening, advising, praying with us at staff and parish meetings, and especially in our own office space. Spaces that just by being you, transformed into our "homes."  "Thank you" are words that seem too simple for wrapping the towel around your waist and "washing our feet" literally and figuratively.
Now finally this is where the feet theme comes in to play. As one can see, there isn't a gift that adequately expresses the appreciation and love we have for you, therefore one was chosen that would be symbolic of the journey, the feet, the closeness and the good sense of style and humor we will always remember you by.
You, Fr. Morgan, are now enrolled in the Sock of the Month Club. REALLY! Each month a new delivery will arrive at St. Basil's Parish. For an entire year, we will be impossible to forget, as we grace your servant feet with warmth, class, and support. Wear them well – in spirit in health, in love. We will be with you!!!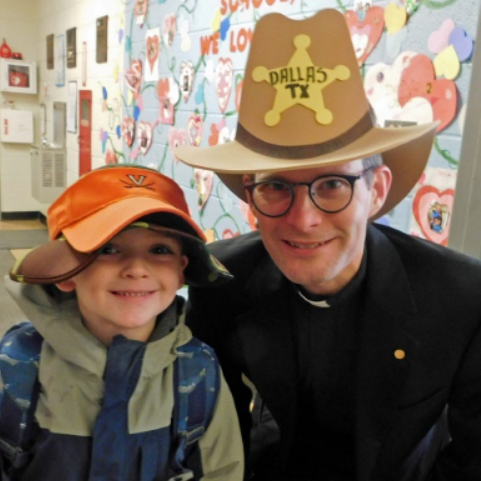 Along with the Sock of the Month Club, Fr. Morgan also received a desk clock/pen holder (in his favorite color, blue) to thank him for his invaluable gift of time and to keep his pen within reach for all the things he'll sign.
Article about Father Rice: here