Here is your New Discipleship Mission: Find Christ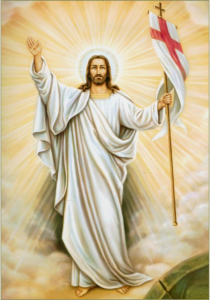 Each week in the Easter Season, April 1 – May 13, this picture of Jesus will be discreetly placed in a different location inside each church.
After Mass, quietly search the church for this picture. Take a selfie with Jesus' picture each week in the different location. Use the Hint box(es) in the bulletins for clues!
Send 1 selfie each week in each location to jodi.schott@dor.org by May 13th to complete your mission!  Please put: Mission Picture in the Subject line of email.
At the end of this Mission you will see what the photos will reveal. Don't have a camera? Ask a staff member or friend for help.
The Mission of Finding Jesus
A reflection by Colleen Trevisani

When I was little, I remember sitting in church looking around for Jesus. I knew he was present in the church at Mass, but didn't know where. I looked behind the pews, I looked at the crucifix, I looked through the hymnal. I had learned that God was everywhere, but invisible. I kept looking. I watched the priest, dressed in robes like clothes from old fashioned Bible times, say Mass. I knew he was a man like Jesus saying the words that Jesus said.
Later I learned about how Christ is in each of us, hidden but seen in our words and actions. And so in church and outside of church, when Christians show the love of God, we show Christ.
I was encouraged by my aunt to read scripture and discover Christ there. I dove deeper, reading psalms and other parts of the Bible, in daily Mass and my own prayer with scripture in Lectio Divina. I found Jesus here in the Bible.
I also learned how Jesus is present when we celebrate the Eucharist. I knew I was drawn to receive the Eucharist and rarely missed Mass.
We speak about the traditional "fourfold presence of Christ": in the real presence of the Eucharist, in the word of God proclaimed, in the presider "in persona Christi" and in the people gathered to celebrate.
This Easter Season, we will reflect on how our story is rooted in God and, in particular, focus on seeing how and where Jesus is present. We will include reflections on seeking and finding Jesus. This is our next mission!