Join us for prayer, opportunities for service and fun for people of all ages.

Participate in our prayerful preparation for Pentecost with a novena to the Holy Spirit, 40 Hours Adoration and Pentecost Masses.  Note that special hours will be targeted for families with young children, teens and young adults with special music and guided meditations during those times to better enable prayer.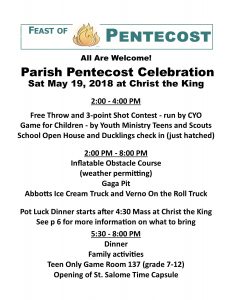 Get into the Celebration spirit with our Parish Pentecost Celebration which will include games for children and families, potluck meal, food trucks and Abbotts, and social time and games for teens and adults.
Bring family and friends!  All Welcome!