Did you see our Mosaic of all the Mission: Find Jesus Pictures?
Our Summer Mission is about the Eucharist.
As Jesus feeds us, we are called to feed others. Explore this week how you are nourished through the Eucharist at Mass and think about how you can share Jesus with others. Grateful for gifts received, we share generously from our hearts to those around us!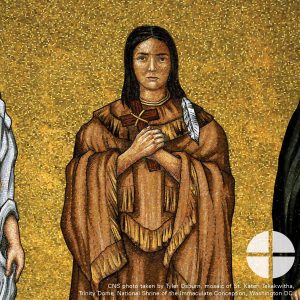 This "Bulletin Insert" includes information this week including a prayer from Pope Francis and info about our Patron Saint Kateri whose feast is coming soon.  Thank you to the United States Catholic Conference of Bishops (USCCB) for sharing bulletin insert.
Prayer Resources for small groups and families on the readings of the week:
Saint of the Week – Saint Kateri
Connect to Saint Kateri with this Reflection
Get connected and Go Deeper with our Parish Weekly Enews