Scouts:
Scouting provides youth with the opportunity to build character and learn new life skills.
Options are available for both boys and girls:
Saint Kateri Cub Scout Pack #233: (Grades K through 5)
While our Cub Pack is currently a Boys pack, we are open to girl dens if we have enough interest and volunteer support for this.  For registration information:
Tim Pellman 315-5717
or
Matt Whelehan 943-2060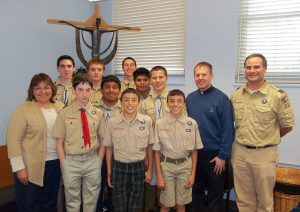 Saint Kateri Boy Scouts Troop 233: (Grades 5 and up) 
For registration information email our Scoutmaster
Troop website: http://bsa233.com
Troop calendar: calendar.yahoo.com/ctktroop233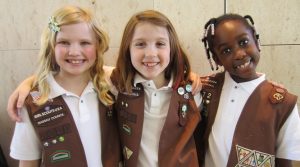 Girl Scouts:  (Girls Grades K – 12)

Girl Scouting builds girls of courage, confidence, and character, who make the world a better place.
Visit GSWNY.org or Contact Silvia Widish, Community Engament specialist from the Girl Scouts of WNY Council who helps us to organize our Saint Kateri Parish troops.
Volunteers are welcome!