Good Samaritan Transportation (GST) responds to Christ's call to love God and one another through honoring our parents and the elderly among us. As part of Irondequoit Senior Ministries, GST provides free, dependable transportation for seniors. Volunteer drivers use their own vehicles to transport seniors to Mass, church services and other appointments.
Who We Serve
Our service is open to senior adults 60 and older, who reside in private homes or apartments,                and members of Saint Kateri Parish. Seniors must be ambulatory – able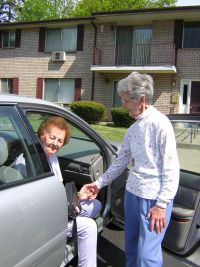 to get in and out of private vehicles with minimal assistance.
What We Offer
GST provides a maximum of two free round-trip excursions per week, offering door-to-door transportation to:
• Mass & church services
• Irondequoit Senior Ministry events
• Doctor, therapy & dental appointments
• Banking & legal appointments
• Visits to nursing homes or long-term care facilities
• Grocery and drug store shopping (Irondequoit only)
• Hair appointments (Irondequoit only)
GST does NOT provide transportation for:
• same-day appointments
• non-ambulatory seniors
• residents of assisted living or nursing homes
• personal & social activities
• voting
Transportation is available for weekday appointments scheduled between 9:00 a.m. and 3:00 p.m. Transportation to church services is available Saturday evenings, Sundays and Holy Days. All transportation requests are contingent on volunteer driver availability. Though this service is free, donations are encouraged and appreciated.
TO SCHEDULE TRANSPORTATION CALL GST AT  (585) 336-1777
• Call in advance – three or more business days are required. Remember, the more advance notice you give us, the better we will be able to meet your needs.
• GST voice mail is available 24 hrs. a day, seven days a week.
• When you call, leave your name, phone number, destination & appointment details.
• Messages are checked every weekday, and all requests will receive a return call.
HOW YOU CAN HELP
• Volunteer – Respond to Christ's call to love one another and put your faith in
action by becoming a GST driver or dispatcher. GST will work within your schedule, and training is provided. To volunteer, call (585) 336-1777.
• Donations – Your tax-deductible donation to GST ensures the continuation of our
services. Remember, a contribution made in someone's name is a wonderful gift for a special occasion or a loving memorial. An acknowledgement of the donation will be sent to the appropriate person if the proper information is included.
Kindly make donations payable to:
Good Samaritan Transportation
Saint Kateri Parish
445 Kings Highway South 14617
(585) 336-1777