This ministry serves the members of our Community who are not able to attend Mass on a regular basis because of long term disability or a short recuperation time. Trained, volunteers visit to bring news, fellowship, and most importantly, Holy Communion to the homebound.  Ministers receive training and support in this ministry as members of the Body of Christ,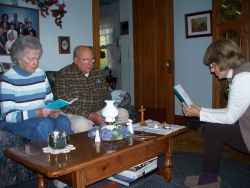 bringing the Body of Christ to our homebound.
If you or a family member would like to have a visiting minister, call (585) 544-8880.
Do you have some time to share with a person who is homebound? If you are a person of Faith, have a caring, loving nature and are a good listener, this can be a place for you.
A 2-part training session for new visiting ministers will be held in the future.
The sessions will prepare ministers with a focus on:
developing the visiting minister's skill to offer prayer and share Communion
developing the ability to establish a trusting relationship with those they are visiting
learning to recognize the homebound persons' needs and connecting them to the resources available
teaching the visiting minister the importance and practice of confidentiality in the caring relationship
Contact:
Donna Moll / (585) 544-8880 x1108 / Email
MaryAnn Noto / (585) 544-8880 x2106 / Email