Welcome to Saint Kateri
Thank you for joining us to worship Our Lord on this day.
We invite you to browse our website and stop in at one of our Church Welcome Information Centers and check out an activity that you may be interested in. There is always something good going on. There is a special place here for you and every family!
Parish Office: 585-544-8880
Website: KateriIrondequoit.org
Vision Statement
Friends and neighbors joyfully sharing and living the Gospel and the transforming love of Jesus Christ through our Parish Family.
---
Mission Statement
To invite and welcome people of all ages, backgrounds and walks of life to embrace and celebrate our vocation: To be Christ to the world.
In 2017, Saint Kateri Parish initiated the Christian Leadership Grants
 through the SKT Education Fund.  The 
Christian Leadership Grant
 is given to children of parishioners who exhibit the potential for excellent Christian Leadership and attend any of the Diocesan-affiliated Catholic High Schools (i.e. grades 6-12), including Siena Catholic Academy.
The parish will be accepting applications for the Christian Leadership Grants for 2018 starting immediately and must be submitted by Friday June 15th.
We Can Do This!
Reach our CMA Goal as 1500 Families Strong
How? When YOU give $15 with 400 others!!!
Do it Today. Do it in May
Give On-line at parish website or use an envelope
Father Hale Scholarship Form
Fr-Hale-Scholarship-2018
Each year Saint Kateri Parish and the Irondequoit Nightstick Club (Police Dept)  invites high school seniors to apply for this scholarship.  Applications are also available at the Welcome Centers and the parish office at Christ the King. Fill in the application and mail or bring to Parish Office at Christ the King  445 Kings Highway by May 31st.
Registration/Updates
Volunteer Opportunities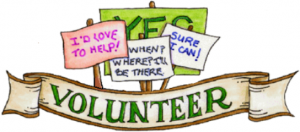 Summer VBS Kidz Camp July 23-27: Volunteers needed!
Volunteers needed in the following areas: 
 1:1 aide: 2 people ● Music: 3-4 people ● Games: 3-4 people
Snack: 2 people ● Theatrical director: 1 person
Desk volunteer: 1 person ● Materials prep: 3-4 people
Art: 3-4 people ● Sm-group leaders and helpers: 10-15 people
Interested in joining the team?  Contact: Jessica Tette @ jessica.tette@dor.org or 338-1146.
Volunteers needed to clean at Christ the King Church
We need a few people to help clean Christ the King church on   either Friday/Saturday morning for approximately one hour.
The responsibilities would be vacuuming, dusting, cleaning fonts and some other small but important duties.  There will be a team leader on hand to show you the ropes.
If interested, please call Lena Livecchi at 544-8880, ext. 2102.
Funeral Ministry
Brief training, serve per availability
Alter Server • Commentators • Greeters
Call Mary Ann Noto – 544- 8880 x2106
Walk Through the Mass Series