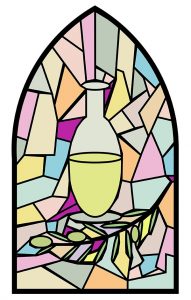 The Sacrament of the Anointing of the Sick is a sign of Christ's healing presence in the world.  Anyone, regardless of age, whose health is seriously impaired or threatened, may be anointed.  Contrary to the experience of many older Catholics, this sacrament is not only for those in immediate danger of death, but for anyone whose illness is more than mild or passing, awaiting surgery, or whose physical, spiritual or emotional health causes them serious worry or anxiety, 
"Are any among you sick? They should call for the elders of the church and have them pray over them, anointing them with oil in the name of the Lord.
The prayer of faith will save the sick, and the Lord will raise them up…"             James 5:14,15
This sacrament, the Anointing of the Sick, makes present the healing, restoring power of Jesus at a time when we are at our lowest and most vulnerable.  We gain strength to bear suffering with patience and dignity.  We are reminded that, whatever we face, Jesus walks with us and with those we love.
Our priests anoint the home-bound and those in the hospital or nursing homes throughout the year; a communal celebration of the sacrament takes place in the Fall and Spring.
Anointing of the Sick may be arranged by calling the office during office hours at (585) 544-8880.  In an emergency situation when the office is closed, please call (585) 544-8880 and press 3 to leave a message for the priests.
It is most appropriate for family members and friends to gather with their loved one when the priest comes for anointing, as the priest represents the entire community that prays to God for their loved one in need of healing.