Stay Connected Digitally! Streamed Mass, Prayer, and More
Connect with us online through our Saint Kateri
Facebook page
or
YouTube Channel
or
Instagram
. All sites are public and do not require an account or subscription. We are also offering Zoom virtual gatherings for various groups. Stay connected!
---
Parish Mass Schedule
All parish Masses are available on our Saint Kateri YouTube Channel
unless otherwise indicated.
Sunday Mass - Sunday at 9:30 am
Virtual Coffee Hour - No coffee hour this Sunday, May 24, 2020 - Enjoy Memorial Day Weekend!
---
This Week's Announcements:
---
Special Event Coming Next Sunday - May 31, 2020
Join in our Pentecost Parade and Pick-up!
From 11 am to 1 pm, come to the Christ the King Campus (445 Kings Hwy S) to drive by, pick-up a palm from Palm Sunday and receive a special gift and Pentecost prayer.
You stay in the car, we hand you the palm, gift, and prayer!
Enter the north entrance off of Kings Highway. Drive to the back of the school building. Near door #1, staff will greet you and direct you toward the gym entrances where you will receive your palm, gift, and prayer. Please stay in your car. Use the South exit out of the parking lot onto Kings Highway.
---
Check out these Opportunities on Facebook Live
♥ Prayer Before Sleeping - Sunday Night Prayer available on Zoom or Facebook live
All other opportunities on Facebook live. Click below to access the videos at any time: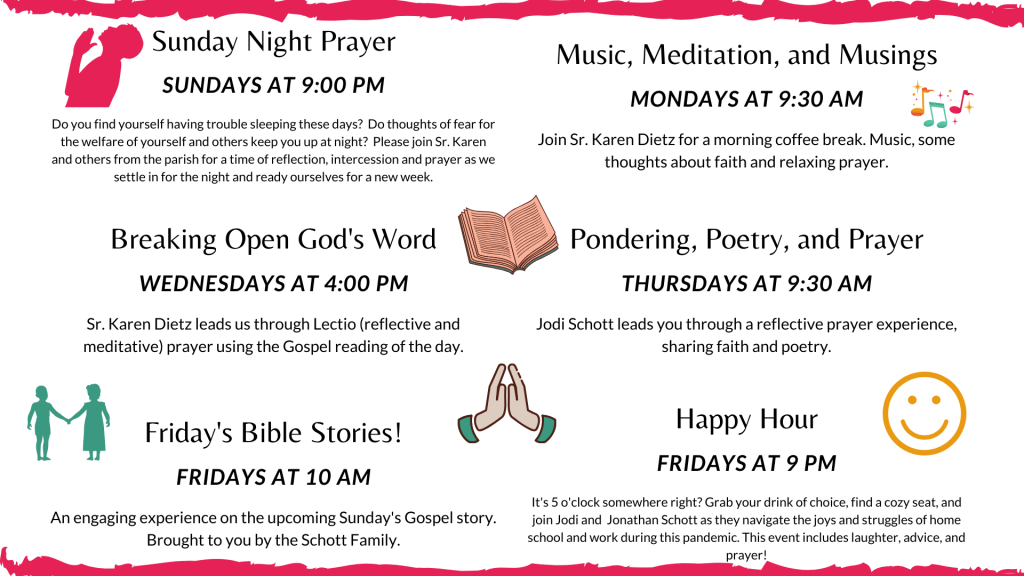 Facebook Live
Click here to see all of our happenings on Facebook live.
Supporting Each Other
Check out our
Parish Prayer Wall
and leave your intention. We will join you in praying for this intention.
Do you know someone without a digital connection who is in need of a phone call? Please email or call our parish office at 585-544-8880 with that info, so we can reach out to them! Our staff and council members are making calls now.
---
Looking for help?
Help us keep our ministries going!
Click here to give:

Or schedule automatic payments from your personal bank account to the parish.
Or please mail your check to:
Saint Kateri Parish
445 Kings Hwy S
Rochester, NY 14617
Thank you for your generosity and support!
Catholic Ministries Appeal

Please help us reach our goal!
As 
we look to close CMA 2019-2020, we humbly ask that, if you are able, please consider fulfilling your pledge by May 31, 2020 . Your CMA gift will help our parish in achieving its CMA goal, and will greatly assist the Diocese in continuing much-needed services, ministries, and programs. 
As of April 30, we have raised $147,021.07 in committed dollars.  This is 68.79% of our $213,706 goal. Any shortfalls must come from our own parish funds.
We invite you to donate today! We are accepting donations from first time contributors, those who have not donated yet this year, and from those who would like to increase your gift.
Youth and Families Stay Connected
Confirmation Session
Our last Confirmation Session of this year was on May 17. See some of the amazing work the youth completed in their small groups this year:
High School Youth:
Games, Music, Talk, and Prayer
---
Family Faith Formation - Virtual Gathering
If you missed the last Faith Formation Session on May 17, you can still view the opening program and slide show:
Family Faith at Home
It has great information, prayers, bible readings, crafts, recipes, ideas for exercise and more. This is perfect for families and individuals who want to explore faith at home!
---
Saint Kateri School Registration for 2020-2021
Registration now open for Saint Kateri School for both returning and new students. Visit the School website for more info!
---