The Sacrament of Confirmation is the final of the three sacraments of initiation through which a person becomes a full member of the Catholic Church (the other two are Baptism and Eucharist/Communion).  Confirmation completes the sacramental grace of Baptism. It is a celebration of the presence of the Holy Spirit with us, and a confirming of the spiritual gifts given to us at baptism by the Holy Spirit that will help us to live the way that Jesus has taught us to live.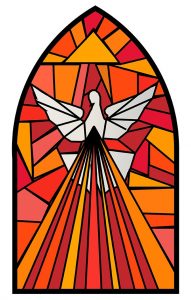 In the sacrament of Confirmation we confirm and strengthen the gifts of God's grace received at Baptism. We celebrate being fully initiated into the Catholic church and continue our life of service to the church and world. It is usually conferred annually within the Mass by the Bishop of the Diocese of Rochester, The Most Reverend Bishop Salvatore Matano at Sacred Heart Cathedral.
Under our Diocesan Policy, youth who are in grade 8 and up can begin the two year process to prepare for Confirmation. Youth in Catholic and Public Schools should register through the parish.
Youth in Catholic School will have catechesis through their theology classes and Public School youth will do so through their Faith Formation sessions.
There are other aspects of the program that all youth complete through the parish, including but not limited to Mass attendance, parent sessions, sponsor sessions, retreats, parish based community service and immediate preparation and post confirmation reflection.
For More Information Contact Christine Bondi