Faith Formation Registration for 2023-2024! Please see the news letter below for information on Sacraments and Faith Formation.
August Newsletter
Register for Faith Formation 2023-2024 below:
Faith Formation Registration
Register for Reconciliation and First Communion Prep:
Reconciliation and First Communion
Confirmation Registration
VBS 2023 Was a HUGE success! Thank you to all the volunteers that made this years camp possible! We successfully sailed the seas with Saint Patrick and grew in our knowledge of The Holy Trinity! Looking forward to our Faith Formation Sessions starting in September and growing more in Christ!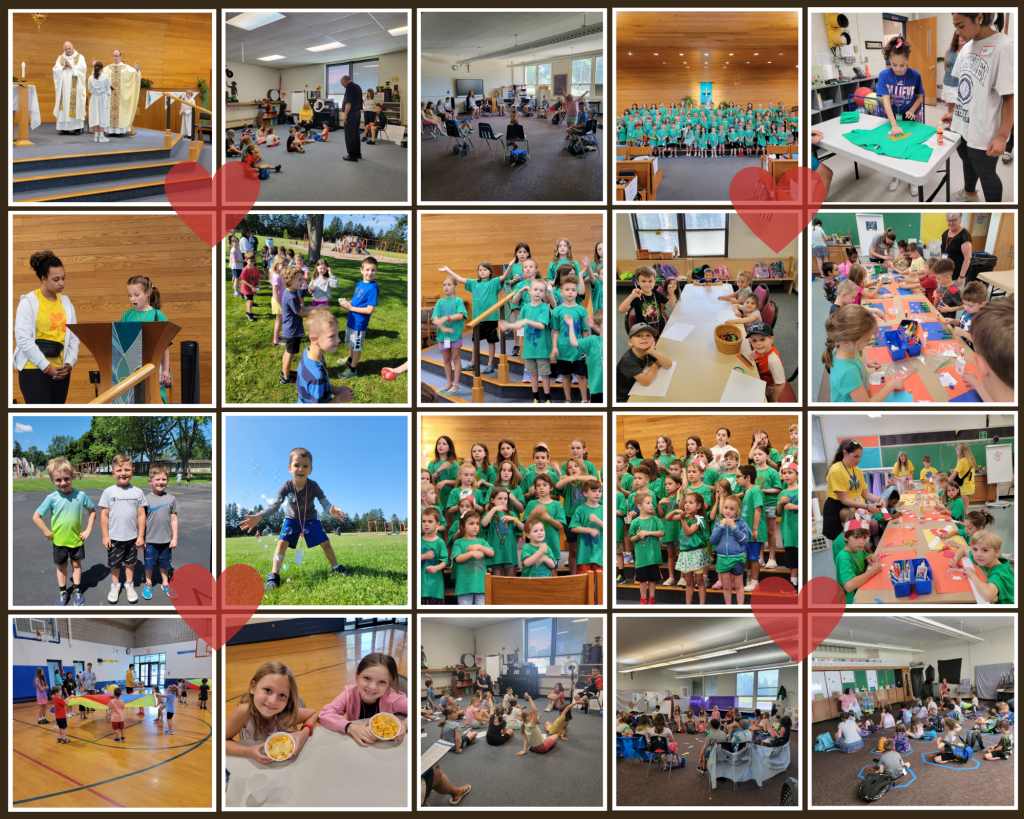 Pray and Play (Birth-3 Years Old)
We are kicking off our new ministry to families with young children!  Please join us!
Wednesday, September 6, 10 – 11:30 am at the Saint Kateri Center (behind Christ the King church in the former convent building)
Saturday, September 16, 10 – 11:30 am at the Saint Kateri Center
Join us, with your children ages 0-3, for a playdate and a chance to connect with other families in the parish!
There is no charge, but registration will help us to plan for the number of people interested!
Pray and Play
Youth Group Registration
Faith Formation Registration for the 2023-2024 year is open **IF YOUR CHILD IS ENROLLED IN CONFIRMATION PREP OR IS IN 8TH GRADE OR HIGHER THEY DO NOT NEED TO BE REGISTERED FOR FAITH FORMATION. Questions, please contact Anna Steele for registration form [email protected] or 585-338-1146**:
If you or your child have questions about receiving sacraments (Baptism, Reconciliation, First Eucharist, Confirmation, or RCIA) please contact Anna Steele at [email protected] or 585-338-1146
For Baptism prep and scheduling please call the Parish Office.
Check out our September newsletter!! Click the button below!


Faith Formation Newsletter
FAITH FORMATION FOR ALL AGES

Our multifaceted, comprehensive program is for children, youth, families, young adults and adults. There is something for everyone!
Faith Formation is a lifelong process which is centered around the Mass and Sacraments. At Baptism, each of us began our journey of faith—a journey that lasts a lifetime. We are called to ongoing formation, prayer and growth in our relationship with Jesus Christ. Find out about age specific guidelines by reading the Timeline for Faith Formation for Families and Children.
We offer year-round Faith Formation programs and ministries for all ages, including small group formation opportunities, Family/Intergenerational Gatherings, and a variety of ministry opportunities. Let us walk this journey of faith together!