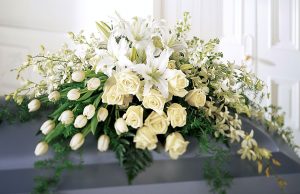 Understanding what a difficult time this is for family and friends, Saint Kateri Parish desires to extend Christ's loving comfort to those in need, while celebrating the life of a Child of God  When a death first occurs, the parish's initial communication usually comes from the funeral home the family has contacted. Saint Kateri works with the funeral director to secure a time, place and minister for the service. Our parish then contacts the family to arrange a meeting time to discuss the funeral liturgy, proceeding then to organize the service with our musicians, funeral greeters and servers.
In a situation where a funeral home is not used, the parish can be contacted directly to schedule a service.
Funeral Reception Ministry

Saint Kateri's Funeral Reception Ministry offers family and friends time to gather to share a meal and the gift of time together after the funeral or memorial Mass of a loved one. Funeral receptions extend the warmth and support of Saint Kateri Parish Family enabling the family of the deceased time to spend visiting with relatives and friends after the Mass. The parish volunteer coordinator assists a family member in choosing a caterer and other details for the reception. A team of dedicated hospitality volunteers welcome guest and serve a buffet meal provided by the family. Receptions can be planned after a service at any of our five Saint Kateri Churches and are generally held at St. Cecilia Newcomb Friendship Center Monday through Saturday or at Christ the King Parish Center, when available.
New Hospitality Volunteers are needed and always welcome. Funeral receptions last from 3 to 4 hours. Hospitality volunteers help with set-up, clean-up and serving. Funeral receptions are scheduled on short notice but volunteers serve based on their availability. No formal training is required for this very rewarding ministry.
 Support and Healing
In a community of faith, though you may suffer from loss, pain, or other sufferings, you do not need to suffer alone. Saint Kateri Parish offers ministries and resources that can help you through your troubles.
If you are in need of a listening ear, learn about our Stephen Ministry.
If you are grieving, the Circle of Friends Bereavement Group provides support for those grieving a loss.
Important Documents:
Frequently Asked Questions for funerals 2019
Funeral-Memorial Mass Lector Guidelines